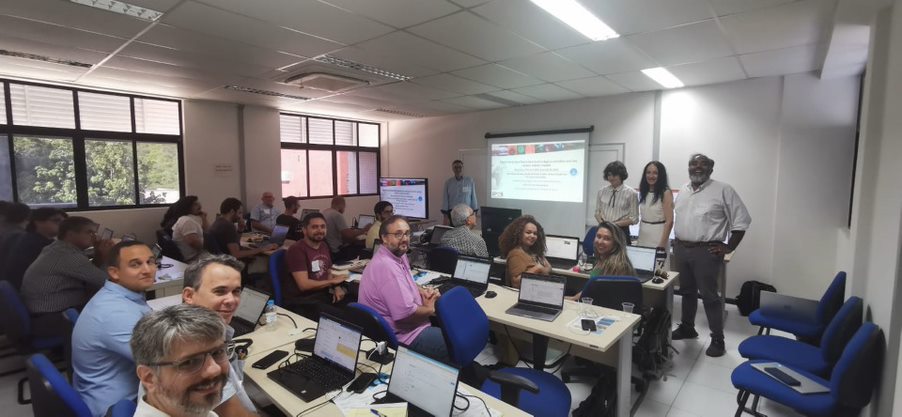 11 April, 2023
Induced Seismicity Workshop & Episodes Platform Training in Natal, Brazil
On February 2nd and 3rd, 2023, the representatives of EPOS Thematic Core Service Anthropogenic Hazards from the Institute of Geophysics Polish Academy of Sciences had the pleasure of holding the 1st 2023 EPOS TCS AH workshop at the Federal University of Rio Grande do Norte in Natal in Brazil. The workshop, hosted by the Seismological Lab, Department of Geophysics UFRN, was entitled "Seismicity induced by human technological activities and the related seismic hazard." The event grouped twenty-one participants with diverse experiences from four universities, the Geological Survey of Brazil, and the private sector (Veneto Consultoria em mineração, JMC - Yamana Gold, Braskem Bairros).
Activities within the framework of the workshop included introductory lectures and discussions on anthropogenic seismic processes and related hazards and risks. However, most of the workshop time took hands-on training on the EPISODES platform. By processing the data from the episodes available on the platform using software implemented there, the participants were solving predefined data analysis problems for anthropogenic seismic hazard assessment. At the same time, they learned about the platform's technical content and got to know how to work on it successfully.
The lectures and the training were held by Beata Orlecka-Sikora, Łukasz Rudziński, and Stan Lasocki, with the assistance of Helena Ciechowska (IG PAS) and the support of Aderson do Nascimento (UFRN).
The participants very well evaluated the workshop. The trainers were asked to consider repeating such a workshop as a side event of the geological conference in Rio de Janeiro in the fall of this year.